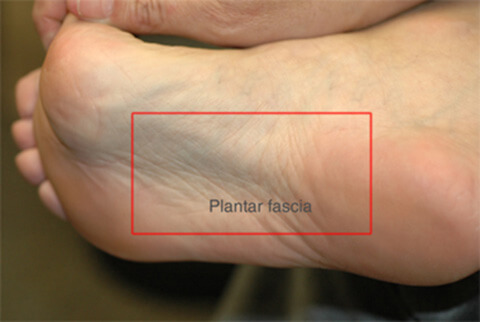 Overview
Plantar fasciitis is a condition characterised by damage and inflammation to the plantar fascia (i.e. the connective tissue on the sole of the foot forming the inner arch. This usually occurs at the attachment of the plantar fascia to the heel bone. Plantar fasciitis is the most common cause of heel pain seen in clinical practice. During walking or running, tension is placed through the plantar fascia. When this tension is excessive (often due to poor foot biomechanics such as flat feet or if it is too repetitive or forceful, damage to the plantar fascia can occur. Plantar fasciitis is a condition where there is damage to the plantar fascia with subsequent inflammation and degeneration. This may occur traumatically due to a high force going through the plantar fascia beyond what it can withstand or, more commonly, due to gradual wear and tear associated with overuse. Occasionally, a heel spur may develop in association with plantar fasciitis.
Causes
You are more likely to develop plantar fasciitis if you are Active, sports that place excessive stress on the heel bone and attached tissue, especially if you have tight calf muscles or a stiff ankle from a previous ankle sprain, which limits ankle movement eg. Running, ballet dancing and aerobics. Overweight. Carrying around extra weight increases the strain and stress on your plantar fascia. Pregnant. The weight gain and swelling associated with pregnancy can cause ligaments to become more relaxed, which can lead to mechanical problems and inflammation. On your feet. Having a job that requires a lot of walking or standing on hard surfaces ie factory workers, teachers and waitresses. Flat Feet or High Foot Arches. Changes in the arch of your foot changes the shock absorption ability and can stretch and strain the plantar fascia, which then has to absorb the additional force. Middle-Aged or Older. With ageing the arch of your foot may begin to sag - putting extra stress on the plantar fascia. Wearing shoes with poor support. Weak Foot Arch Muscles. Muscle fatigue allows your plantar fascia to overstress and cause injury. Arthritis. Some types of arthritis can cause inflammation in the tendons in the bottom of your foot, which may lead to plantar fasciitis. Diabetes. Although doctors don't know why, plantar fasciitis occurs more often in people with diabetes.
Symptoms
If you have Plantar Fasciitis, you will most likely feel a sharp pain under the ball of you heel and it will often give pain when standing after a period of rest. For example when you get out of bed in the mornings or after being sat down. Some patients describe this feeling as a stone bruise sensation, or a pebble in the shoe and at times the pain can be excruciating. Patients with Plantar Fasciitis can experience pain free periods whereby the think they are on the mend, only for the heel pain to come back aggressively when they appear to have done nothing wrong. If your plantar fasciitis came on very suddenly and the pain is relentless, then you may have Plantar Fascial Tears. We will be able to differentiate between these 2 conditions, sometimes with ultra sound imaging. The treatment for each of these conditions will need to be very different.
Diagnosis
Your doctor will check your feet and watch you stand and walk. He or she will also ask questions about your past health, including what illnesses or injuries you have had. Your symptoms, such as where the pain is and what time of day your foot hurts most. How active you are and what types of physical activity you do. Your doctor may take an X-ray of your foot if he or she suspects a problem with the bones of your foot, such as a stress fracture.
Non Surgical Treatment
Orthotics are corrective foot devices. They are not the same as soft, spongy, rubber footbeds, gel heel cups etc. Gel and rubber footbeds may cushion the heels and feet, but they do not provide any biomechanical correction. In fact, gel can do the opposite and make an incorrect walking pattern even more unstable! Orthotic insoles work by supporting the arches while re-aligning the ankles and lower legs. Most people's arches look quite normal when sitting or even standing. However, when putting weight on the foot the arches lower, placing added tension on the plantar fascia, leading to inflammation at the heel bone. Orthotics support the arches, which reduces the tension and overwork of the plantar fascia, allowing the inflamed tissue to heal. Orthotics needn't be expensive, custom-made devices. A comprehensive Heel Pain study by the American Orthopaedic Foot and Ankle Society found that by wearing standard orthotics and doing a number of daily exercises, 95% of patients experienced substantial, lasting relief from their heel pain symptoms.
Surgical Treatment
Surgery should be reserved for patients who have made every effort to fully participate in conservative treatments, but continue to have pain from plantar fasciitis. Patients should fit the following criteria. Symptoms for at least 9 months of treatment. Participation in daily treatments (exercises, stretches, etc.). If you fit these criteria, then surgery may be an option in the treatment of your plantar fasciitis. Unfortunately, surgery for treatment of plantar fasciitis is not as predictable as a surgeon might like. For example, surgeons can reliably predict that patients with severe knee arthritis will do well after knee replacement surgery about 95% of the time. Those are very good results. Unfortunately, the same is not true of patients with plantar fasciitis.
Prevention
While there are no sure ways to prevent plantar fasciitis, these prevention tips may be helpful. Keep your weight under reasonable control. Wear comfortable, supportive shoes. Use care when starting or intensifying exercise programmes.